Beyond a Repost
How can you utilize social media to be a better activist?
Click the links below to learn more about slacktivism, the duality of social media for activism, and solutions to transform your online platform for a substantial impact.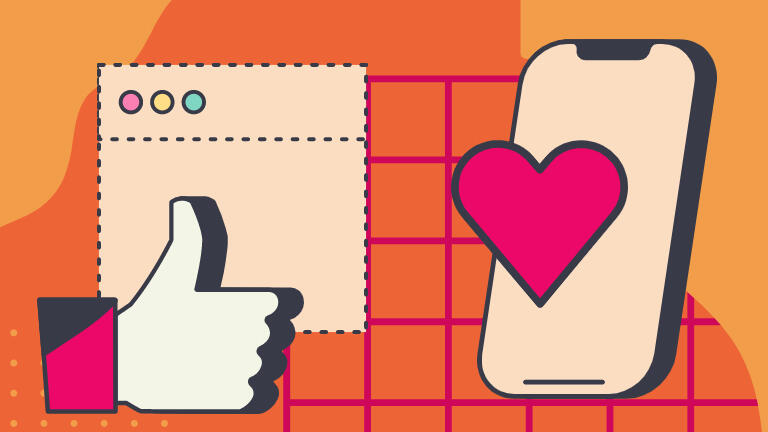 You can start with "What is Slacktivism?" and read the whole guide, or click one of the pages below.
What is slacktivism?
"Slacktivism (a portmanteau of slacker and activism) is a pejorative term for the practice of supporting a political or social cause by means such as social media or online petitions, characterized as involving very little effort or commitment." - Wikipedia
"The term [slacktivism] combines the words "slacker" and "activism" and posits that people who support a cause are performing simple measures are not truly engaged or devoted to making a change." - The Joint Programme of United Nations on HIV/AIDS
Synonyms/Related Terms: clicktivism, armchair activism, hashtag activism, performative activism
What are some examples of slacktivism?
Signing Internet petitions

Setting your profile picture banner that references a cause

Sharing an informational guide on your social media feed

Hashtags advocating a certain cause

Boycotting a product or service for a short period of time

Contributing ONLY your thoughts about a certain cause

Anything on social media that does not have a call to action
What are the advantages of slacktivism?
Provides more awareness / information about a certain social justice issue More accessible to a larger audience due to social media accessCan inspire larger movements that have more real life calls to action (such as the impact of the #MeToo movement and the donations towards the Ice Bucket Challenge)
What are the disadvantages of slacktivism?
Deters the general user from becoming further engaged with social issues; a user who reshares a post may feel like a post creation was enough for activismOnly scrapes the surface for many topics that require further readings such as systemic racism, feminism, etc.May contain misinformation or disinformation that creates questionable credibility for a movementLimited time frame for awareness, especially for small actions such as changing a profile picture or using a particular hashtag
A height of slacktivism in 2020 was posting black squares for the Black Lives Matter movement.
Black Square Survey
Introduction to Black Tuesday and Black Squares
The black square posts originated a movement by two music executives Brianna Agyemang and Jamila Thomas. Inspired by the music industry movement #TheShowMustBePaused, the two wanted to stop typical internet/offline action to bring attention to the injustices on the black and brown community. This sparked a nationwide day of acknowledgment, ranging from social media posts of black squares, to one-day business closures.
Although it brought great attention to the BLM movement, it also was widely criticized for its redirection from important information and work concerning the BLM movement. Users were encouraged to post hashtags to #BLM and #BlackLivesMatter on social media, which inadvertently created a black image wall on Instagram. A portion of the posts made by users vocalized their support without a list of resources or any sort of call to action. For more information, read this piece published by Vox Media here.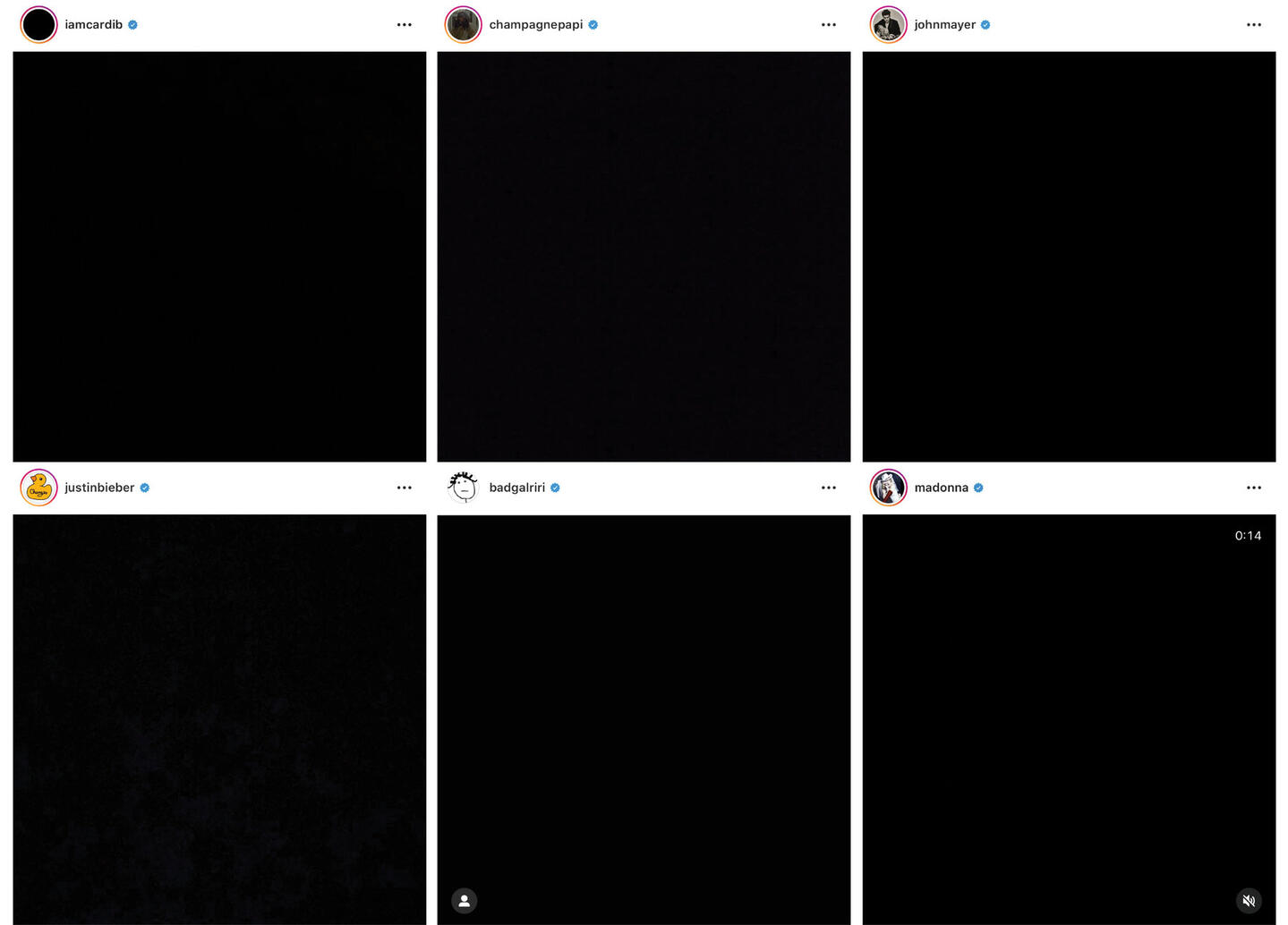 Survey Introduction
The BLM movement of 2020 heightened social media engagement from many accounts, ranging from personal users to larger business corporations. In response to this, I decided to conduct a survey about the black squares for Black Out Tuesday and general social media activism.
From September to November 2020, I asked my followers and subscribers of NCAAT's Youth Newsletter about their perspectives on social media activism.
Survey Analysis
This survey was not meant to be for statistical, quantitative analysis. I acknowledge that my followers are mostly left-leaning individuals, ranging from strong leftists to moderate liberals. However, it was meant to gather a series of (left-leaning) perspectives and nuances about social media activism.
I received 23 responses hosted on the free survey creation website, Tripetto. All responses were anonymous and each individual consented to some of their responses published on the website.
Question 1: Did you post a black square on social media in solidarity with the Black Lives Matter movement?
One fourth of the respondents posted a black square. Here were some of the reasons they chose to:
"To show my support for the BLM movement and draw attention to the issues prevalent in our society"

"I felt as though I should join in directing people's attention to the BLM movement."

"I wanted to show solidarity with the Black community in the aftermath of George Floyd's death and ensure that my Black connections knew they were supported."
All individuals published their black squares on their Instagram page, which is statistically skewed since my personal advertisement for the post was made solely on Instagram itself.
One of the respondents who posted immediately took it down in fear of "performance activism," stating "... I ended up deleting the post for fear that it was performative. I do remember I encouraged people to do more than post a black square, and to educate themselves on the movement."
For those who answered no previously: Why did you not post a black square?
About 40% of the responses specifically cited "performance activism" as their reason for not posting a black square. The other respondents felt like it had no significance or addition to the BLM movement.
Question 3: What are your thoughts on seeing black squares on your social media feed?
The responses ranged from supportive to pointless, without much correlation with their own decision to post one. Of those who did not post a black square, these were some responses:
Feels like performance activism - "I think people want to post it to feel better about themselves for "participating" in activism but when it comes down to it they don't educate themselves or do things that actually matter."

No opinion - "I can't really have an opinion because i am not black, however i didn't think it contributed in any sense."

Good for awareness, but that's it - "Its good in a sense of bringing awareness to the issue but if there's no other action than posting something, then its kind of pointless."

Mixed reaction - "I was happy to see solidarity among multiple groups of people, but was concerned when people weren't listening to the advice of black creators about not using the blm hashtag. It also made me annoyed when I saw people from my high school who have made racists comments in the past posting it because it felt like they were just doing it for public appearance/to make themselves feel good."

Happy (sometimes) - "It warmed my heart at times depending who I saw doing it (for example someone that I didn't realize would know about it or be supportive of the Black Lives Matter movement)."
Of those who did post a black square, all were aware of the nuances of the black square posts and strongly advocated for more action. One respondent stated it "ultimately felt pointless."
Survey Conclusion
I was surprised by the range of responses about black squares. Many of the respondents acknowledged performance activism/slacktivism and how it limits an individuals' impact to political or social issues occurring everyday.
I don't directly condone anyone who posts a black square. However, I encourage you to ask yourself: What are my next steps in helping my community and be a better activist? What reach do I have in creating this post?
Fake News?!
Social media has been used as a vehicle for reporting news and information to anyone with Internet access. Users can often follow social media accounts of individuals and re-share their content with the ease of a button, without any pre-checks before posting. However, despite this accessibility, there can be lingering consequences when publishing harmful or inaccurate information on social media.
Inaccurate or misguided social media can divided in two categories:
Misinformation

Disinformation
Misinformation
Misinformation - false or inaccurate information that is communicated regardless of an intention to deceive
This is a nonsensical example that captures the point: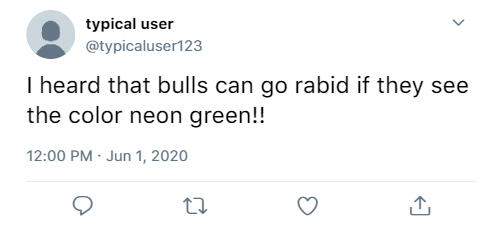 This typical user may have heard this rumor from a peer and decided to post to warn people of the "dangers" of neon-green seeing bulls.
Misinformation is typically wielded when the author is persuading an audience towards a certain idea or opinion. It is within natural human error to publicize information that is not 100% true without malicious intent. According to MIT Sloan Research, false information is more likely to be posted by users who are lazy or distracted. However, it can be dangerous if your content reaches out to a large audience.
The other end of the stick is disinformation.
Disinformation
Disinformation - false or misleading information that is spread deliberately to deceive
Examples of these are scams, hoaxes, or clickbait titles, or hacked content. A notable example is a 2019 disinformation campaign, called Endless Mayfly.
Made by individuals based in Iran, this campaign uploaded several false articles that made wildly inaccurate claims, such as "a fake article claiming that six Arab nations called on FIFA to strip Qatar of its role as host of the 2022 World Cup" (Buzzfeed News). This article was rehashed in Reuters and spread to multiple news organizations before it was found to be completely false. More information about this can be found here through Buzzfeed News.
Both ends of false information can be harmful. MIT Sloan researchers also discovered that 70% of falsehoods are more likely to be retweeted than the truth. This happens for two major reasons:
False news is typically more unusual or striking, which can easily attract users

Disinformation campaigns are led with larger resources, such as repost bots or a team of individuals ready to target certain audiences.
One characteristic that comes with false information is bias.
Bias
Bias - a particular tendency, trend, inclination, feeling, or opinion, especially one that is preconceived or unreasoned
In activist or political spaces, it is nearly impossible to find information that is unbiased. That is why it is necessary to do more research on an author's intent that can lead to bias in their report.
On the other hand, bias can be entirely led by technology or your own choices. Now that social media networks have become more personalized, biased reporting is more prevalent than ever. Depending on your activist interests or political alignment, you may view content that is aggressively targeted for people that share your values. You may also choose to read sources of news from sources that lean towards a certain value or interest, in which each author specifically tailors words towards their thesis.
Although bias is great for nurturing your own beliefs, it also can lead with misinformation. This is especially true with the rise of social media as a secondary news source.
Click "Social Media Examples" to see some types of posts that can have misinformation, disinformation, and bias!
Examples of social media susceptible to misinformation, disinformation or bias
Social justice slideshows
Social justice slideshows are images with limited information about socially relevant topics, usually accompanied by aesthetically pleasing graphics and large text. This form of social media post has been widely shared on Instagram, due to its 10-image feature. Above are examples of the wide range of topics these posts can cover, from the origins of Pride to the #EndSARS movement.
These slides are incredibly useful to provide bite-sized information through Instagram. However, there are several things to question when reading these types of posts that may align with misinformation and bias.
Who created this post? - There are many types of creators that use social justice slideshows. For instance, some accounts solely create social justice slideshows on Instagram, like @soyouwanttotalkabout and @whydontwediscuss. Grassroots organizations and activist organizations such as the Sunrise Movement and the NDN Collective utilize these graphics to attract audiences towards their movements. Some are passionate individuals with graphic design capabilities, such as @courtneyahndesign (Courtney Ahn) and @alphabets.abc (NuEcolah Behnzukeh).

Every one of these creators has a bias, which affects the content they publicize. For instance, a slideshow about Halloween and Cultural Appropriation by @thistletopics persuades its users to not be culturally inappropriate, which is a left-leaning concept. In an abstract example, one infographic may post information about defunding the police, while someone who is politically far-left may post an infographic about abolishing the police.
What are the sources of the post? - Has the individual or team researched the topic thoroughly? Have they created citations in the captions or on the post with credible resources?

Most of the time, the creators of social justice slideshows are not professionals about the topics they post. This is especially true for accounts that solely post social justice slideshows, which addresses a range of topics. If the slideshow does not have sources, question its credibility. In some instances, graphic design creators have collaborated with notable activists or experts to create slideshows. Even with experts, a user should always investigate further into the credibility and resources behind each post.
Is this slideshow accurate? - In other instances, social justice slideshows may mistakenly misinform an audience about a certain statistic or fact. Instagram posts are non-editable once a post is created, and it is difficult to inform an audience once the information changes unless the creator completely removes the post. Typically, creators address changes in the caption, but not many users read the caption of a post (especially since a majority of the information is contained in the post itself). This leads to the final point...
Where can I find further reading about this topic? - At the end of the day, the work done by activists and organizers cannot be truly summarized in an Instagram post, even if it uses 10 images. A user can also further read the material to ensure all the information on the post is correct.

Although social justice slideshows are useful in providing a quick rundown of certain topics, it is incredibly important to further engage in the topic - whether it is reading contemporary news articles, activist essays, or research dissections.

Social justice slideshows should serve as a baby step towards activist involvement. It is great to rally more individuals towards a certain cause. But with the potential exposure to misinformation and bias, it should not be considered a primary work for an upcoming activist.
Further readings and opinions about social justice slideshows:
Vox Media - How social justice slideshows took over InstagramThe New Republic - The Lazy Liberalism of Instagram Slideshows@projectunsettlement - An Instagram Infographic About Why Instagram Infographics Are Not RevolutionaryWashington Post - Selfies and sunsets be gone: The latest Instagram trend is Powerpoint style presentationsThe State Press - Color dissonance: many critique the possible posturing behind social media activism
Contemporary news association posts
To attract more users, contemporary news organizations such as the New York Times and the Associated Press has been creating accessible content on social media throughout Instagram, Twitter, and Snapchat.

Most of the information presented on these platforms has been thoroughly fact-checked before publication (due to the general process of larger news organizations). However, even if they are verifiable news sources, there is still a general bias that each news source has.

One way to check media bias is through the non-partisan website, AllSides. AllSides provides balanced news coverage, media bias ratings, and civil dialogue about major contemporary news topics. Check out their website here.

Note: This website highlights liberal, centric, and conservative views, but not as much towards views outside that bubble.
Twitter thoughtpieces
Even on other social media websites like Instagram, Twitter post screenshots have risen in popularity in social justice networks. With its 280-character limits, Twitter offers the same type of "accessibility" as social justice slideshows.

A majority of social justice tweets consist of powerful opinion pieces, many of which are easily sharable with the Retweet button.
Similarly to social justice slideshows, I encourage individuals to think critically whenever they see a Twitter thoughtpiece, due to the character and image constraints of Twitter. These are the same questions as the social justice slideshows seen above.

Ask yourself the following:
1. Who created the tweet(s)?
2. Is the information of the tweet(s) accurate?
3. What are the sources of the tweet?
4. Where can I find further reading about this topic?
Carrds (including this one)
If you've ever checked the social media bio of one of your more social justice inclined friends, you've probably seen a carrd highlighting a certain social justice issue. Below are some notable examples from my friend circles:

blacklivesmatters.carrd.co - a link guide on ways to help the BLM movementendsars.carrd.co - a link guide detailing what SARS is and ways to helpdotherightthing.carrd.co - a masterlink guide covering social movements such as the BLM movement, anti-racism, etc.bringjustice.carrd.co - "a masterlist of information and resources on different movements fighting injustice all around the world"junkterrorbillnow.carrd.co - "a collection of informative resources for Filipinos and non-Filipinos alike" ... about the Junk Terror Bill in the Phillippines
A carrd is a static, one-page website creator and host. This website you're reading now is created through Carrd! Based on my own experience, the functionality is constricted if a user only chooses the Free version. Fifty elements can be created through the Free version, which includes items such as a text box, image, or background. Due to this limited functionality, most creators of Carrds do not have unlimited creativity within creating their website.

Once again, ask yourself the following:
1. Who created this carrd?
2. Is the information on this carrd accurate?
3. What are the sources of the carrd?
4. Where can I find further reading about this topic?

Include these questions as well:
4. When was this carrd last updated?
5. Are there affiliations to activist organizations connected to these social movements?
I actively encourage anyone reading this website to not use this website as a holy grail about slacktivism. I am one person, and there is much more research about there about performance activism/armchair activism that isn't constrained to this one website. Click on the "Next Steps" button for a general guideline on how to be a better social media activist!
How to be a better social media activist
1. Question everything - There isn't one link on social media that will be the ultimate guide to understanding every social movement. Every post is bound to have bias, and there is the potential danger of misinformation/disinformation in each publication, as prefaced above,

Be sure to also check out other users' guides or information on how to become a better activist, because a majority of this is based on my own observations and work, and isn't the one true answer.

2. Source a call to action - If you choose to commit to posting on social media as a form of activism, be sure to see if there is any sort of next step provided in the content you share or create.

3. Put in the work! - Whether it is committing to more research about a certain topic or directly working with a grassroots or activist organization, remember that there is always room for growth. Becoming an activist means committing to continual improvement.

4. Set your own boundaries - Working as an activist also means having time to rest and recover. Especially for social justice movements that are related to personal identities, it is understandably difficult to tear away from the work you do. However, you must commit to your own self-care before you actively care for others through social justice movements.

Click "Organizations List" for a brief guide on grassroots organizations and some organizations in North Carolina!
What are grassroot organizations?
Grassroot organizations - the ordinary people in a society or an organization, especially a political party (Cambridge Dictionary)
Grassroots organizations and movements focus on the actions of everyday individuals that do not have a direct monetary or power connection towards a certain cause. They typically start with a small group of individuals and generally introduce a type of participatory democracy. These types of organizations do not solely focus on political parties, but can have political interests that align with a party. (ethical.net)
One aspect to look out for is astroturf within grassroots organizations. Physical astroturf is imitation grass that is laid on the ground; it lacks the roots like regular grass does. First coined by US Senator Lloyd Bentsen, astroturfing is "when companies or even individuals mask their motives by putting it under the guise of a grassroots movement." (Business Insider)
For instance, the lobbyist firm Bonner & Associates pretended to be the NAACP to stop the American Clean Energy and Security Act. In 2009, they forged a series of letters to Congress as the NAACP to vote against the bill for "economic reasons."
List of NC grassroots organizations
SEAC Village
SEAC exists to amplify a voice for the quickly growing Asian American population in the Carolinas

SEAC cultivates grassroots power through community engagement, social justice, and youth organizing

SEAC exists to add an Asian American voice to the collective movement for justice and equity in North Carolina
---
Sunrise Movement
"The Sunrise Movement is a youth movement to stop climate change and create millions of good jobs in the process. We're building an army of young people to make climate change an urgent priority across America, end the corrupting influence of fossil fuel executives on our politics, and elect leaders who stand up for the health and wellbeing of all people."
---
NC BLOC
"North Carolina Black Leadership and Organizing Collective (NC BLOC) is a statewide mass movement formation composed of strong, publicly-active, left, Black and POC-led institutions (organizations, business, schools, etc.) and community leaders who are dedicated to creating and implementing strategies focused on advancing Black and marginalized communities across North Carolina."
---
El Pueblo
"El Pueblo is a nonprofit organization based in Raleigh, NC, specializing in leadership development for both youth and adults among Wake County's growing Latinx community. To build collective power through leadership development, organizing, and direct action so that the Latin American community and other marginalized communities control our own stories and destinies."
---
Transplanting Traditions
"The Mission of Transplanting Traditions Community Farm is to provide refugee adults and youth access to land, healthy food and agricultural and entrepreneurial opportunities. The farm provides a cultural community space for families to come together, build healthy communities and continue agricultural traditions in the Piedmont of N.C."
---
Poor People's Campaign
"The Poor People's Campaign: A National Call for Moral Revival is uniting people across North Carolina to challenge the evils of systemic racism, poverty, the war economy, ecological devastation and the nation's distorted morality of religious nationalism."
---
Democracy NC
"Democracy North Carolina is a nonpartisan organization that uses research, organizing, and advocacy to increase voter participation, reduce the influence of big money in politics and achieve a government that is truly of the people, by the people and for the people. For more than 20 years, we've taken on powerful industries and political leaders, regardless of party, and promoted reforms that expand public involvement in the political process."
---
Siembra NC
"Siembra NC is an organization of Latinx people defending our rights & building power "with papers and without papers" with member leadership teams in Alamance, Durham, Forsyth, Guilford, Orange and Randolph counties, established in 2017."
---
Durham for All
"Durham for All is building a new majority 10,000 people strong – a multiracial, cross-class progressive movement led by people of color and working-class people. We take action together at the ballot box and in the streets to win back our government and put it to work — for all of us."
---
Down Home NC
"Down Home North Carolina is a new organizing project led by the working people of North Carolina's small towns and rural communities. Together, we are taking action to increase democracy, grow the good in our communities, and pass a healthy and just home down to our grandbabies."
---
Questions, comments or concerns? Contact me here.
Thank you to North Carolina Asian Americans Together for the opportunity to create this project.

Website by Minh-Thu Dinh
Click here for references.